Movies you have to watch if you are a teacher
What makes teaching really so challenging is that there are always a lot of issues that are awaiting classroom teachers. Issues of teachers' low salaries, inequality, bad work conditions, social injustice, disruptive behaviors, working in socially disadvantaged milieus are all challenges almost all teachers have gone through. Some teachers endured and adapted so smoothly while some others decided to quit.
Throughout the history of cinema, there have been movies that talked about these issues. These are the movies that must be watched by teachers because they provide insightful and valuable lessons to learn and reflect upon. As John Dewey once said, "we don't learn from experience; we learn from reflecting on experience".
In this post, I will share with you 10 top movies that can help you as a teacher. These movies are not only entertaining but also tremendously educational and inspirational. You will find that there are plenty of messages, stories, and things about education to think about and reflect upon.
1. Dangerous Minds:
A beautiful movie about an ex-Marine who became a teacher and struggles to connect and encourage adolescents from East Palo Alto, California to study. The movie displays teachers' struggles with orthodox teaching methods and the shift to curriculum approaches that are more resilient and effective.
2. Educating Rita:
An inspiring piece portraying the story of an alcoholic teacher who has been hired by a working-class girl to prepare for high education. The girl helps her teacher reconnect with an unrelenting passion for education.
3. Freedom writers:
A beautiful movie about a highly motivated young female teacher who tries her best to motivate her at-risk high school students to study. she teaches them the values of diligence, tolerance, and solidarity. The movie features unorthodox ways of teaching and inspires teachers to redesign the curriculum.
4. School of Rock:
An extremely entertaining movie about the story of a Rock band member (Dewey Finn) who was kicked out. He later decides to be a substitute teacher in an elementary school. After discovering their talents, he helps them learn and Rock music.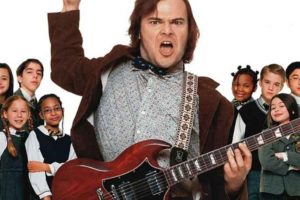 5. To Sir With Love:
An amazing movie sharing the story of a black man (who is trained as an engineer) who teaches uncontrollably exuberant high school white students in the slums of London. It is a very inspiring piece of art.
6. Stand and Deliver:
A movie that portrays the story of a veteran high school teacher (Jamie Escalante) who succeeded to encourage and inspire dropout students from Los Angeles to learn calculus.
7. Dead Poets Society:
A classic movie about a teacher (John Keating) who inspires and encourages his students to look at literature and especially poetry from a different standpoint.
8. Good Will Hunting:
What a movie! Will Hunting is a janitor at MIT, and he is very gifted in mathematics; however, he doesn't want to spend time at school. After a psychologist finds out his talents, he decides to encourage him to study Math and go beyond his life issues.
9. The Paper Chase:
A fascinating movie about a first-year law student who is trying to create a balance between his studies and his relationship with his professor's daughter.
10. The Breakfast Club:
A great educational movie about five high school students who are defined by stereotypes and clichés. They meet in Saturday detention and find out that they have more things in common than they ever thought. It is a beautiful movie that depicts the social differences among students and how the latter looks at them.
These are some of the great movies in history about education, teachers, and educators. Have you ever watched some of them? Which movie do you like most?
Pick up your movie and enjoy it. 
Also read: Top Educational Movies To Enhance Students' Learning